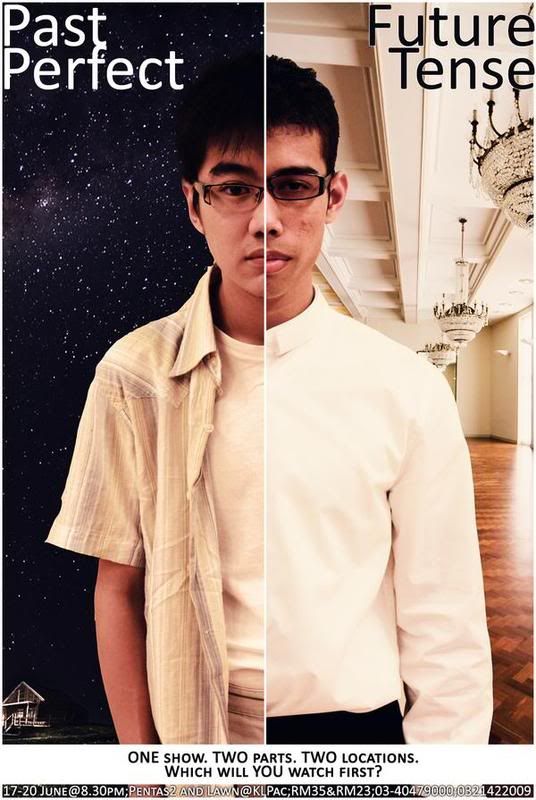 Catch BOTH plays on the same evening
(even if it is raining outside!)

REASON 2:
For the 1st time in klpac, two plays are being performed simultaneously
in two different locations, indoors & outdoors

REASON 3:
YOU get to decide which play you want to see 1st!
Chronological order? Flashback to the past? ... YOU choose!

REASON 4:
The best of Malaysian & Singaporean playwriting
included in the price of a SINGLE ticket
REASON 5:
The directors are
(Short + Sweet 2008) Best Actor | Anugerah Seni Negara (Bakat Muda)
recipient

REASON 6:
T4YP Alumni member, Farah Rani, in action
alongside The T4YP Ensemble's 11 young actors, raring to go!
REASON 7:
FOUR PERFORMANCES ONLY!
klpac is proud to present
The Theatre For Young People Ensemble in

Past Perfect/Future Tense
One Show. Two Parts. Two Locations.
You, the audience have the chance to choose which part you want to watch first! After watching one part of the show, you move on to the next location to watch the next part. Whether you watch the show as a flash back or the other way round is entirely up to you!
"Just because someone is coming from Singapore you want to forget your Hokkien? If you are so good to do something good when I didn't ask you, you must be hiding something bad."
"When I was young, I used to look at the stars with Kenny. We would talk all kinds of nonsense looking up at the stars, but all the time, I would be thinking whether you were thinking of me out there in Kulim.
I wondered if you remembered me."
Past Perfect takes you back in time to the childhood of Andrew and Kenny or more fondly known as Big Head and Potato head when they were living with their mother in Kulim. Their favourite aunty, Sien is coming for a visit from Singapore and the two boys are going crazy preparing for her highly anticipated arrival. But their mother doesn't seem as impressed as she should be with all their lalang-pulling and garden decorating efforts.
In Future Tense, Desmond delves into the adult versions of Andrew and Kenny, revealing elements of guilt and remorse. Aunty S is holding her 50th birthday party. It is the biggest bash she is throwing - ever - one that will celebrate her life, and everything she stands for. But her three sisters have sent their children to tell her - on the day itself - that they have decided to not show up. At first, Aunty S feigns total bafflement, but soon it becomes obvious that one generation has not been telling the other what has been brewing in the family.
Pentas 2 (Future Tense) & Lawn Area (Past Perfect), klpac
RM35 & RM23 (Students, the disabled, and sr citizen)
Call or walk in | klpac (03 4047 9000 - ticket collection at klpac)
Call or walk in | The Actors Studio @ Lot 10 (03 2142 2009 / 2143 2009 Walk in only | Axcess HQ (Jln. Semangat), Axcess 1-Utama outlet & Alamanda Putrajaya outlet
ABOUT T4YP
Now in its third year, klpac's T4YP programme is the leading platform for young people between the ages of 16 and 25 to express themselves by creating meaningful theatre. With a series of 7 productions back to back, Past Perfect / Future Tense will be the 2010 ensemble's first venture in a main stage performance. The T4YP 2010 Season is powered by YTL Power. For more information on T4YP, visit www.t4yp.wordpress.com.
T4YP's 2010 Season is powered by: